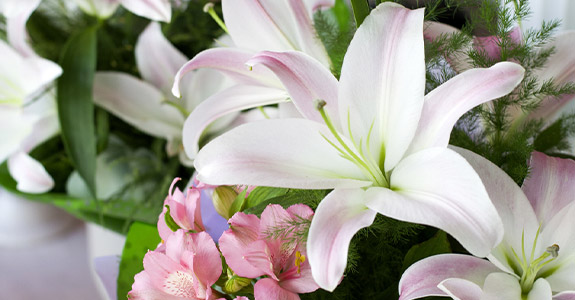 Pricing Information
Variety of Sympathy, Funeral Floral Arrangements, Sprays, Baskets and Vase Arrangements
---
Vase Arrangements – $69 to $129 (Roses with Lilies) Mixed Flowers – $59 – 99
---
Baskets – $65 – $229 (Mixed Roses/Lilies plus Carnations/Spray Roses/Mums/Gerberas, Others)
---
Funeral Sprays – Standard, Wreath, Cross, Heart-Shaped, Double-Heart, Solid Heart or Others – $179 – $500
---
Price depending on flower content, size, banners, pictures or other special requests – Includes Stand
When hardship befalls us, it's good to know that there are people out there who care about our wellbeing and emotional stability. Whether it's the passing of a loved one, the loss of a family pet or something else that leaves us grieving, even the simplest gesture can brighten our days. For many, the sight of a beautiful bouquet of sympathy flowers has exactly that effect, bringing a little bit of light into the darkest times in our lives.
Show Your Sympathy with a Beautiful Bouquet
It's Just For You Flower Delivery is here to make sure that when someone you know and love is in need of a pick-me-up, they get the support they need in the form of wonderful funeral flowers, sent directly from you. We offer delivery in Houston, TX and the surrounding areas, as well as out-of-town orders, to make sure that even if you're not there to offer condolences yourself, your flower delivery will show someone they are in your thoughts.
Not sure what's appropriate to send or how to present your bouquet in a way that's respectful of someone's emotions and situation? Not a problem. We're your all-encompassing resource for information and suggestions. When you stop by our location in Houston, you'll be able to put together a bouquet of funeral flowers that speaks from the soul and touches its recipient in a way that lifts their spirit and puts a smile on their face, even when they have nothing to smile about.
For more information about the different types of sympathy arrangements and funeral flowers we can make or to speak with us in Houston, TX regarding sympathy arrangements and delivery, please contact us today at 281-543-2409.